Fire Tables and Fire Pits | Popular Fire Pits and Fire Table Options
You love sitting by the fire inside the house, or on the beach at the cottage, or in the woods at your summer campsite.
Why doesn't your family get to enjoy the same comfortable, cozy ambiance in the comfort of the back yard?
Sales of fire tables and fire pits grew last year and we expect the same growth in 2017.
There are a lot of different types of fire table and fire pit – each with benefitss your family should know about before buying.
The lowdown on wood burning fire pits.
Wood burning fire pits give you that authentic campfire ambiance at home any time you want.
The smell of smouldering wood, the cracking and popping and sizzling and that natural warmth all make it a uniquely natural experience.
Your wood burning fire pit comes in a whole whack of different sizes and shapes aimed at different customer needs.
Natural gas or propane fire tables.
The only challenge with wood burning fire pits is fuel. Stocking wood, building the fire and cleaning up can discourage families from investing in a fire pit.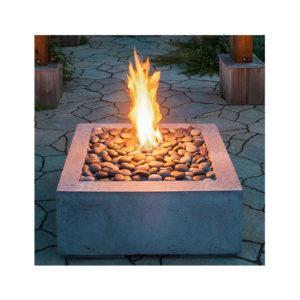 That's why most families opt for a natural gas or propane fire pit or fire table.
Gas or propane means your fire blazes to life with the click of a button and requires no clean up when you call it a night.
If your natural gas or propane fire pit is primarily decorative, not meant to be a social centre, we recommend:
If your gas fueled fire table is more of a centerpiece where friends and family will gather for food and drinks, you'll be better served by a model with an edge for food and drinks, like:
There are lots of options, and we're sure you'll find something just right for your family and the style of your outdoor space.
The trend is growing every year and 2017 should be the year you join in!
Enjoy more nights under the stars with your gorgeous fire pit or fire table this summer. Contact us today to take a closer look at your options.