What to Expect During a Gas Fireplace Installation (From Start to Finish)
Featured Product: Marquis Enclave Gas Fireplace
Who doesn't look forward to the warm, calming flicker of a gas fireplace? Maybe cozied up with a nice mug of hot cocoa? While you may be waiting in anticipation for this end result, the whole process of getting a gas fireplace installed is probably not as easily visualized. Here's what to expect during a gas fireplace installation from start to finish. We'll give you the inside scoop to avoid common pitfalls or uncertainties that delay you from getting the beautiful fireplace you deserve.
Types of Gas Fireplaces
It all starts the moment you walk into the showroom, glowing fires surrounding you with what seems like an endless array of options. But no need to be overwhelmed -our skilled salespeople are ready to help you through every step of the way. The first thing we do is find what gas fireplace option works best for you and your home. Three main types of gas fireplaces include:
Gas Insert
Zero-clearance
Freestanding Stove
Gas inserts are designed to go right into an existing masonry fireplace. For this option, you will need a chimney already built into the infrastructure of your home so we can slide the firebox in. Although it sounds easy, this option will also require the installation of two aluminum chimney liners and gas lines.
Zero-clearance fireplaces are mostly for homeowners renovating or building a brand-new house. These fireplaces are built from scratch right into the wall with no existing infrastructure in place. Lastly, freestanding gas stoves are meant to replace current wood stoves. These stoves are also installed with no previous infrastructure in place, as they stand freely outside of the wall.
To learn more about gas fireplaces and installation, give our team a call today. We are happy to help!
Jotul GF 370 DV Freestanding Gas Stove
What Type of Venting?
After choosing the gas fireplace that works best for you, our technicians will explain the type of venting system your home requires. There are two major types of venting for gas fireplaces that we offer at Stamford Fireplaces:
1) Direct vent is by far the most popular vent system and can be installed in any direction
2) Natural vent is mostly used for existing chimneys
There is also a third venting option called vent-free that uses no venting systems at all, yet ventless fireplaces are NOT permitted in Canada.
Estimate and Scheduling
After discussing your fireplace selection, our sales team will recommend a free in-home estimate! The estimate will include:
List of materials and model of the fireplace to be installed
Costs of labour
Payment method and terms
Get your free in-home estimate with Stamford Fireplaces by contacting us here
All you have to do next is find a day to install your new gas fireplace. Then, only one more step to go – the installation!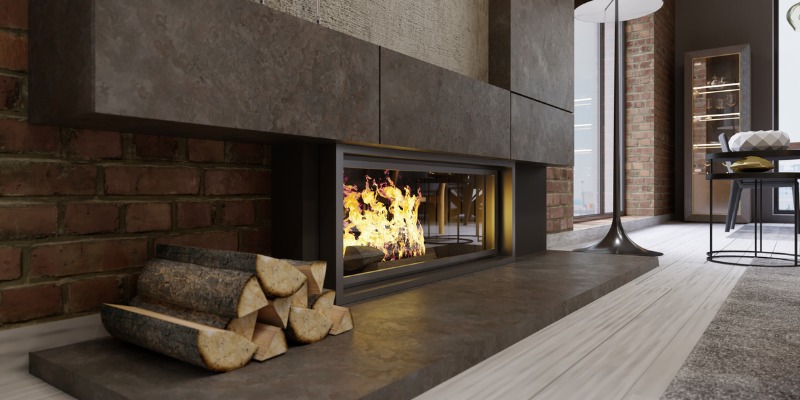 On Installation Day
Depending on the gas fireplace you choose, the installation will look a little different. However, technicians will always start by clearing the area and ensuring everything is up to safety code.
Preparing for the installation begins by going over the project with you and addressing any questions or concerns. Our technicians will then cover the workspace with drop cloths for easy cleanup. Ladders and equipment get set up next since the floors are protected.
After everything is prepped, we install the venting and gas line for the fireplace. This is followed by setting up the firebox and adding your decorative elements. Once everything is good to go, our technicians test for any leaks and fire up your new fireplace!
The technicians end by cleaning up their work area and spending time explaining the functions of the fireplace to you. We'll make sure that any questions you have, get answered. We complete the installation by finalizing the billing, and voilà! A correctly installed fireplace that ensures the health and safety of your family for years to come.
Stay warm this winter by contacting Stamford Fireplaces to get your very own gas fireplace installed or learn more about what fireplace option is best for your home.
Sources:
https://www.nrcan.gc.ca/sites/www.nrcan.gc.ca/files/energy/pdf/energystar/all_about_gas_fireplaces.pdf
https://www.campbellcare.com/2018/03/11/your-guide-to-gas-fireplace-installation/
https://www.thisoldhouse.com/fireplaces/21018607/all-about-gas-fireplaces
https://www.familyhandyman.com/project/how-to-install-a-gas-fireplace/