Tips for Fire Prevention Week
The Canada Safety Council holds a National Home Fire Safety Week every year to remind Canadians that precautions should be taken to protect their home from fires. As fireplace installers, our team here at Stamford takes fire safety very seriously. So, for fire prevention week we've collected some safety tips that will help you and your family avoid home fires.
Fireplace Safety Tips
Fireplaces can be perfectly safe if you keep them well-maintained and follow these tips:
Type of wood: If you have a wood-burning fireplace, the wood you choose matters. Wet and greenwood smokes more and produce more soot in the chimney, which increases your risk of fire. Instead, use properly dried-out wood.
Cleaning: Remove ash from the last fire before you start the next. Clean the chimney regularly and get a professional to check it annually to be sure that your home is protected. You can book a cleaning here.
Supervision: Be sure that the fire is always supervised and completely out before you go to bed. If you have a gas fireplace and small children are near, be careful because the glass is hot and hazardous.
Space: The area around the fireplace should be clear of anything that could catch fire. This includes furniture, rugs, blankets, books, newspapers, and more.
Damper and flue: The damper seals the flue (the interior of a chimney) and should always be open before you start a fire. This ensures the proper ventilation needed to prevent a fire.
To learn more about fire prevention and what you can do to ensure your family and home are safe, contact our team today!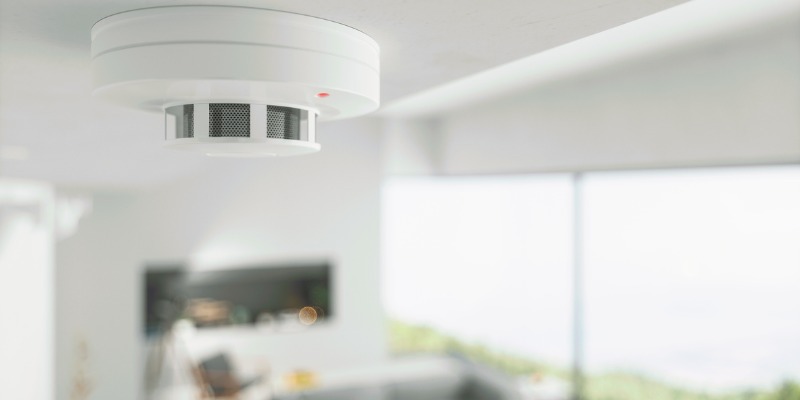 General Fire Prevention Tips
Your fireplace isn't the only fire risk in your home. Keep your family safe by following these general fire safety tips:
Fire alarms and extinguishers: This is a great opportunity to check that your fire alarms and carbon monoxide detectors have batteries in them. Be sure that you have the right fire extinguishers and that they have been inspected recently. If you have a fireplace, put a fire extinguisher within a short distance so you can grab it in emergencies.
Know what to do: Go over your family evacuation plan in the case of a fire so that children know what they should do, especially if they are sleeping when the alarm goes off. Children should know how to:

Test closed doors for heat
Crawl on the ground to avoid smoke
Not to go back into the home for any reason
Stop, drop and roll if you are on fire
Keeping your family safe starts with learning about fire prevention. From the kitchen to the bedroom, there are many tips that could potentially save your family's lives. Home fire prevention for fireplaces begins at installation. Contact us today if you'd like to learn more about the precautions we take to ensure your fireplace is safe or look into getting your very own today!
Sources:
https://canadasafetycouncil.org/category/campaigns/fire-safety-week/
https://www.healthychildren.org/English/safety-prevention/at-home/Pages/Fireplace-Safety_Tips.aspx
https://www.healthychildren.org/English/safety-prevention/all-around/Pages/Fire-Safety.aspx