Fireplace Design Trends for Fall
With September comes the end of summer.
The kids are back in school. You're back at work after a well-earned summer vacation. There are shorter days, longer nights, and cooler temperatures.
Add it all up, and you'll be spending more time at home. And that means more time around the fireplace.
Now, if you didn't upgrade the fireplace at the beginning of 2018, you're probably thinking about doing it this fall and leading into winter.
With that in mind, here are autumn's hottest fireplace trends, courtesy of Stamford Fireplaces.
Gas fireplaces
While wood fireplaces will always have a romantic authenticity to them, gas fireplaces will be incredibly popular this season.
Here's why:
CONVENIENCE: Niagara Falls homeowners (especially younger ones) are busy. When coming home, they don't want to deal with the effort to burn wood logs and clean-up afterwards. They just want to flick a switch for an instant flame.
VARIETY OF STYLES: If you want a sleek, edgy, and modern gas fireplace, you can get it. If you're looking for something with a traditional, classic appearance, you can get that too. There are no design limitations with a gas fireplace.
NO CHIMNEY? NO PROBLEM. For homes without a chimney (according to real-estate website Trulia, only 2% of home listings mention chimneys), direct vent gas fireplaces allow you to enjoy a warm fire. The same can't be said for wood fireplaces.
This fall, you can expect to find more gas fireplaces – or wood-to-gas fireplace conversions – than ever before.
Fireplaces installed in room dividing walls
Usually, fireplaces are installed in rooms where people can gather and socialize:
Living room
Family room
Entertainment room
Basement den
However, placing fireplaces in walls which divide or separate rooms (think of wall separating, say, the kitchen from the bathroom) will be in vogue.
Now, this trend depends on the layout of your home. You'll need the space to properly install and vent a gas fireplace (this would be difficult to accomplish with wood).
The thinking being that, by putting a fireplace in a room dividing wall, people on both sides of it will be able to enjoy the fire.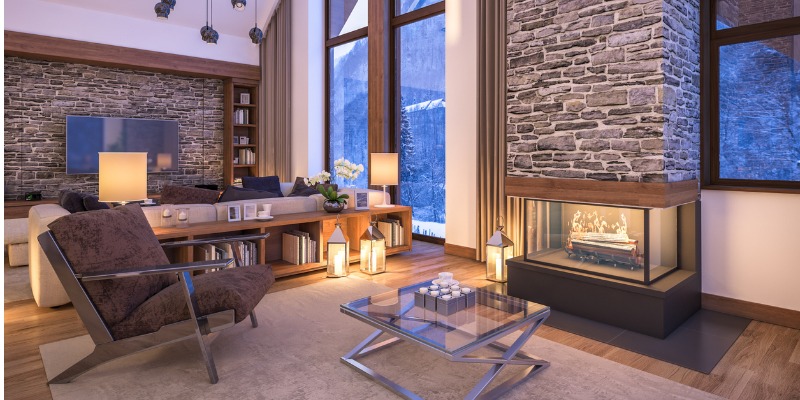 The fireplace as a work of art
Who says fireplaces have to be square? Who says they have to be rectangles, either?
Forward-thinking homeowners are looking for something different from the fireplace design centre in terms of odd or out-of-the-box geometric shapes, such as:
Trapezoids
Circles
Triangles
Rhombus
Additionally, some people are opting to create their own unique fireplace shapes – especially for wood and gas fireplace inserts.
This trend is costlier, but it guarantees you'll have a truly one-of-a-kind fireplace in your home.
Fireplace and media
One of the most common fireplace installation requests this fall will be to install fireplaces directly underneath media elements like a TV or projection screen.
In order to accomplish this previously (without damaging the TV), you needed things like:
Heat protection barriers.
Safety clearances.
Venting fans.
With today's modern fireplaces, it's possible to hang whatever you want above your fireplace (including art) without worry.
This trend, in particular, will be popular in smaller homes where space is at a premium.
Want a new fireplace for the fall? Start with Stamford Fireplaces
It's all about enjoying your fireplace in different ways this fall.
Different shapes
Different locations
Different technology
If you want to bring any of these trends into your home (or something else altogether), we can help.
Contact us with your questions or comments. We'll get back to you with all the answers and information you need.