Almost Off the Grid Heating – Propane or Wood Burning Stove?
It is becoming more and more common for families to want to lower their reliance on the electrical grid. For many, separating as much as possible from utility companies has become a goal—especially due to the high costs of heating.
When looking to take heating almost off the grid, most homeowners consider two options: propane gas stoves or wood stoves.
Heating With a Wood Stove
Generally speaking, wood fuel is easy to obtain and is usually affordable (or free of charge). It can be a very convenient form of whole home heating, assuming you have the space to store a reasonable amount of firewood at a time.
With quality firewood you can typically burn one load of fuel for up to eight hours, meaning that although it might be slightly more work when compared to a gas option, you really won't have to be constantly replenishing your fuel every couple of hours as some might think.
A lesser known benefit of a wood burning stove is its dehumidifying properties. If the microclimate in your region is abnormally moist, just utilizing your wood stove can help with moisture control.
Heating with Propane Gas
If you prefer lower maintenance heating, many homeowners find propane gas stoves very convenient. Start the fire with the push of a button and go through the maintenance and cleaning tasks associated with a fireplace far less often than with wood stoves.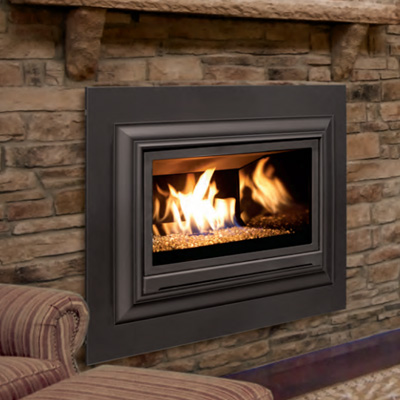 Although in some cases propane can be a more costly fuel than wood, it burns hotter, more efficiently and more evenly, so the space you're supplementing your heat in won't fluctuate the same way it might with a wood burning fireplace.
One consideration to note when weighing the benefits of wood vs. propane is that the cost of propane can get very high in extremely cold climates, and you miss out on the crackle of wood burning in a fireplace or stove.
There are also generally more design options with propane gas fireplaces or stoves—you can choose an insert, stove or fireplace and venting can be either direct or via chimney. Many styles can be very compact, while giving off a large amount of heat. Today, there are much more realistic ceramic logs that give the look and feel of a real wood fire (or other design options like stone or glass if you're after a more contemporary look).
Get a Quote for Off the Grid Heating
If you're interested in exploring wood or gas propane heating for your home, contact Stamford Fireplaces to discuss your options with one of our design experts. You'll be glad you did!