Cleaning the Glass On Your Gas Fireplace | Fireplace Chores
Cleaning the Glass On Your Gas Fireplace
If you can't really see the flames flicking around the inside of your direct vent gas fireplace, how do you know if it's performing as intended?
Aside from that, why wouldn't you want to have a clear, unobstructed view of the flames every time you turn the fireplace on? The movement of the flames is a major part of the ambiance most people enjoy from the fireplace.
There is very little maintenance involved in owning a gas fireplace (aside from the maintenance a professional should perform annually) but the glass needs to be cleaned on a regular basis.
What makes the glass filthy?
A great buildup usually presents itself on the glass gradually through the year. There are a couple reasons:
New gas fireplaces are recommended to run for a minimum of 6 uninterrupted hours upon installation. This cures any manufacturing residue. Particles become heated and deposit on the glass as condensation when the fireplace cools.
Natural venting processes move mineral particles to the surrounding surfaces, where they sit until you decide enough is enough.
The buildup is usually exponential. Once you notice the film, it appears to worsen quickly.
How do I actually do it?
You start by knowing these three rules:
Don't use paper towel. Use a smooth cloth, like a J Cloth.
Don't use ammonia-based cleaners.
Don't use abrasive cleaners (like Comet).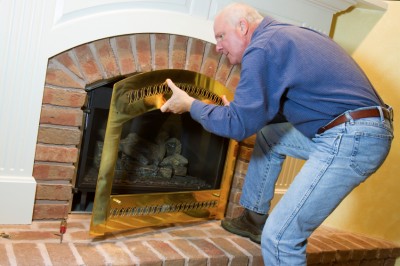 Then follow these steps to get the glass on your gas fireplace clean.
Turn off the fireplace, including the pilot light, as per the instructions in your gas fireplace manual. If you don't have your manual, you can probably find it online with a quick search.
Leave the glass front on its hinges if it has them. Remove it to a soft surface if not.
Use a cream cleanser and your damp J Cloth. Pour about 2 tablespoons directly onto the glass.
Spread the cleaner across the glass and let sit for 15 minutes. Set a timer, the full 15 minutes is necessary.
Remove the cleaner using a circular wipe pattern.
Turn the glass over and repeat on the opposite side. Minerals can deposit on the outside of the glass as well.
Make sure the glass is dry before reattaching/closing and starting up the fireplace again.
There you have it! You can see the flames again, and your fireplace is like new.
For the rest of your fireplace maintenance, book an appointment with one of our professional technicians. We'll make sure it's ready to heat up perfectly when the summer fades and those cool nights call for a little extra warmth.